(This information was sent as an email update to Friends supporters on March 5th, 2021)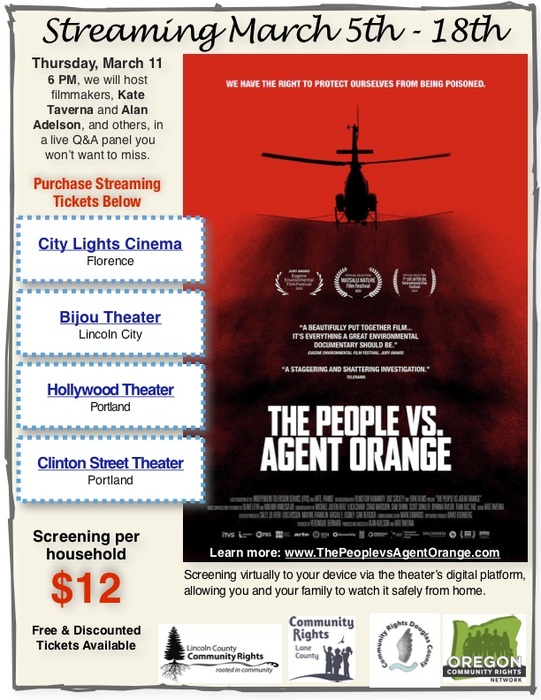 Dear Friends of OSU Old Growth,
In a previous email update and blog piece, I wrote about the pivotal role that prominent OSU forestry professors played in creating a new market for the poisonous chemicals of Agent Orange (defoliant used in the Vietnam war) – as industrial forestry herbicides. These OSU professors not only helped to create the post-war market for the pervasive poisons (2,4-D and 2,4,5-T), they also advocated on behalf of Dow Chemical to fight the Environmental Protection Agency's efforts to ban the chemicals. This dark chapter of OSU history led to the poisoning of people and watersheds not just in the Pacific Northwest, but in forested regions around the world.
The profound human cost of these chemicals – both in Vietnam and the U.S. is the subject of an amazing documentary film, The People vs. Agent Orange – available for streaming March 5th – 18th. If you missed the debut at the Eugene Environmental Film Festival back in October, this is your chance to see this award-winning documentary.
Incriminating documents disappear. Activists are threatened. A helicopter technician secretly films the contamination of reservoirs, while a massive industrial cover-up goes on. After decades of struggle and tragic personal losses, two heroic women are leading a worldwide movement to end the chemical plague and hold the manufacturers accountable. In France, Tran To Nga is suing the American chemical industry for poisoning her in Vietnam. In Oregon's forests, Carol Van Strum exposes the continuing use of toxic herbicides. Watch the movie to learn about their heroic struggles and the ongoing legacy of these poisonous chemicals.
This film will be accessible from independent theaters in Oregon (listed at the link above). You can stream it to your device or computer in the comfort of your own home over a two week period. This film is showing across the US, but by selecting an Oregon theater, you'll help support a local business in these difficult times. Share the invitation with friends, family, workmates, and note that ticketing is per "household" so one ticket provides viewing for your entire family / COVID "bubble". To see a trailer for the film, click here.
Note: panel discussions for the film can be watched at no charge on the film web site and a LIVE Q&A session on Thursday, March 11 at 6 p.m. PST (email info@orcrn.com for zoom link access). Hear from the film makers and characters. Learn more about peace and veteran advocacy work, genetic research into the effects of toxins, and activism to change laws that enable legal harms.
* * * * * * * * * * * * * * * * * * * * * * * * * * * * * * * * * * * * * * * * * * * * * * * * * * * * *
In case you're thinking this chemical poisoning is a thing of the past, you should know that 2,4-D is used in approx. 1500 products and is one of the most pervasive herbicides in the US (with the USDA reporting ~45 million pounds used in 2016). The usage of 2,4-D was expected to grow by up to 600% after Dow introduced their "Enlist Duo" (combination of 2,4-D and glyphosate) in 2014. The US Geological Survey routinely tests surface water and air samples in the U.S. – and a majority of samples contain measurable amounts of 2,4-D. Even more concerning, Studies in Ohio and North Carolina found 2,4-D contamination in more than 85% of the child and adult urine samples in both states.
2,4-D is considered to be an endocrine-disrupting chemical and has been linked to a wide range of serious health problems (from birth defects to non-Hodgkin's lymphoma, sarcoma, fertility and thyroid problems). Dozens of epidemiological, animal, and laboratory studies have shown a link between 2,4-D and thyroid disorders. Despite the EPA's and chemical companies' claims of safety, NO studies have looked directly at the effects of 2,4-D on fetuses, infants, and children (those at highest risk). (for more info. read this article).
Thanks for your continued support!
Doug & Friends of OSU Old Growth (www.friendsofosuoldgrowth.org)