Update for October 2020: With OSU's plan for an Elliott State Research Forest (ESRF) in final draft form and the Elliott Advisory Committee's (~2-year) role soon coming to an end, we've reached a critical period in the OSU – Elliott process. The Oregon State Land Board will meet in early December to make a final decision about the fate of the Elliott State Forest. The Department of State Lands (DSL) is currently soliciting public feedback in an unusually short comment period (less than 4 weeks). To learn more and find links to send comments, read our blog update on the OSU – Elliott process. Your comments can have a big impact on the future of what will likely become one of the largest research forests in the U.S.
Update for July 2020: With both a new OSU president (F. King Alexander) and Dean of the College of Forestry (Tom DeLuca), we now have an enormous opportunity for positive change. There has never been a better time to influence how the University and College operate when it comes to "leadership in forestry education" and their management of the Research Forests. If you'd like to get involved, here are some specific things to do and keep in mind:
To join our email update list, please sign our petition and check the "add me to your mailing list" box: https://friendsofosuoldgrowth.org/save-osu-old-growth-petition/ Be sure to look for the confirmation email to verify your signature!
If you have specific skills, interests, or questions, please email us at: friendsofosuoldgrowth@gmail.com or use our on-line form: https://friendsofosuoldgrowth.org/contact/ – we welcome your support and involvement!
You can now send comments and questions about OSU's forestry management and the next Research Forest Plan directly to the Dean of the College of Forestry at: forest.input@oregonstate.edu (if you're willing to CC or BCC friendsofosuoldgrowth@gmail.com, it will help us monitor issues of concern – all personal information will be kept strictly confidential).
Here are some things you might consider advocating for:
Protect All Remaining Stands of Mature Forest : The previous (Interim) Dean placed a temporary moratorium on the cutting of all trees 160 years and older. While a step in the right direction, this was also long overdue. Whether or not this moratorium becomes permanent will depend on the new Dean and the next forest plan.
We'd like to see ALL sections of mature forest on OSU lands permanently set aside for carbon storage, wildlife and ecological research, and educational purposes. The term Late Successional Forests in the Pacific Northwest refers to all forest of natural origin that are >80 years in age. These stands are important habitat for northern spotted owls and are the precursors of future old-growth forests. The federal government is no longer cutting Late Successional Forests (i.e. trees > 80 years old) – so ask Dean DeLuca and his forest managers to conform to the same (80-year) protection standard.
Follow the 2005 Plan: On October 21st of 2019, Interim Dean, Anthony Davis, made a formal "un-suspension" of the 2005 Research Forest Plan stating that the 2005 Plan would remain in effect until the next plan is finalized (in approx. 3 years' time). In the meantime, we need to make sure the managers of the Research Forests follow the 2005 plan "to a T".
Some key things to watch out for (when you're hiking in the forest):
10 large harvests in the southern zone of McDonald Forest from the past couple of years violated the Plan's 1-4 acre limit. We need to make sure ALL large cuts in the southern zone of the McDonald Forest follow the 1-4 acre proscription! You can find details of OSU's current logging activities here: https://cf.forestry.oregonstate.edu/harvest-webmap If you see something of concern, send an email (to forest.input@oregonstate.edu) and please CC or BCC friendsofosuoldgrowth@gmail.com
Harvests in the southern zone of McDonald Forest have reduced nesting/roosting/foraging (NRF) habitat for threatened northern spotted owls by ~166 acres (more than 10% of the original 1,585 acres) – in direct violation of the 2005 Plan. We need to make sure all future harvests are in compliance with the Plan and do not diminish NRF habitat for northern spotted owls. Determining NRF can be a little tricky, but it is safe to say cuts of old forest in the southern zone of the McDonald Forest either violate or fragment the existing NRF habitat. Ask the new Dean to restore the 166 acres of NRF habitat destroyed in the past by setting aside other sections of mature forest. Research Forest managers continue to cut substantial sections of older forest that could have become future owl habitat. It is not enough to simply protect the diminished NRF habitat. The College should be leading the effort to increase northern spotted owl habitat by demonstrating how to do it in the Research Forests!
The 2005 Research Forest Plan called for a review of key sustainability indicators (including "Estimates of carbon balance completed for each land allocation and management unit. (Five year report)" and "Distribution, quantity, and characteristics of legacy structures and character trees. (Leave tree database by harvest unit compared to plan guidelines)" among many other factors). Ask the Dean and his staff to evaluate and publish these sustainability indicators for all current and future harvests. We would especially like to see them keep their commitment to measure carbon impacts of their logging. A 2018 study by OSU researchers found that logging is by far the largest source of greenhouse gas emissions in Oregon ( https://sustainable-economy.org/osu-research-confirms-big-timber-leading-source-greenhouse-gas-emissions-oregon/)
Submit a "Letter to the Editor" at the Gazette Times, The Oregonian, or other publication: https://www.gazettetimes.com/forms/contact/letter_to_the_editor/ https://www.oregonlive.com/opinion/page/how_do_i_write_a_letter_to_the.html
Make it a personal and powerful message. Share your views on how University and College leaders should demonstrate "leadership in forestry education". Remind folks that OSU is a public institution that ought to be managed to meet public expectations and needs. Urge the Dean to change the management priorities to reflect the purpose of the forests: REASEARCH. Carbon sequestration, wildlife, and ecology must take precedence over revenue generation!
Change the Management Structure of the Research Forests: Contact the Dean of the College of Forestry, OSU President, and Board of Trustees to let them know these issues are important to you. Ask that they prioritize carbon sequestration, wildlife, and ecological research in the "Research" Forests by changing the management of the forests to a multi-college administrative body (for more details, visit: https://www.facebook.com/McDDFuture/ or https://tlc5103.wixsite.com/mcddfuture )
Remind OSU's leaders that cutting old growth does not align with their mission, goals, and core values (see: https://leadership.oregonstate.edu/trustees/oregon-state-university-mission-statement). Tell them the Research Forests should be dedicated to research, not used to promote destructive industrial forestry practices like clearcutting. Ask them to restrict timber industry funding of the Dean's position (his salary comes from a $5 million endowment from the past president and CEO of Roseburg Forest Products). This gives a strong perception of a conflict of interest. Let them know you expect positive change – and hold them accountable for it!
College of Forestry Dean: tom.deluca@oregonstate.edu
President F. King Alexander: pres.office@oregonstate.edu
OSU Board of Trustees: trustees@oregonstate.edu
Contact the Oregon Department of State Lands (DSL) to express your concern about the possibility of OSU's managing the Elliott State Forest: https://www.oregon.gov/DSL/Pages/Comment.aspx
If OSU cannot responsibly manage their own, modest research forests, how can we trust them to manage the 41,000 acres of old growth in the remote Elliott Forest? For more info., read our blog piece, "The OSU-Elliott Problem": https://friendsofosuoldgrowth.org/2019/12/13/the-osu-elliott-problem/
Contact your local Oregon representatives (e.g. Senator Sara Gelser and Representative Dan Rayfield) to let them know you care about forestry issues and the Research Forests. With OSU in their district, they can play a leading role in encouraging OSU to reform their forestry management practices.
Get Involved in the Forest: We're looking for people who can help with the following activities:
GPS Mapping of remnant stands of old trees (we need experts in GPS technology as well as volunteers to help with mapping and measuring)
Adopt a Grove / Harvest Area: If you like to get out in the forest (or clearcuts), we could use your help assessing whether OSU is following their Plan and the commitment to stop cutting all trees over 160 years old. Tasks might include taking photos and measurements of old trees and stumps, and marking them. We can provide guidance and measurement tools.
Help with outreach and gathering signatures for our petition at key events and locations (e.g. Corvallis Saturday Market, Lewisburg Saddle, etc.) – Note these activities are currently on hold due to the pandemic.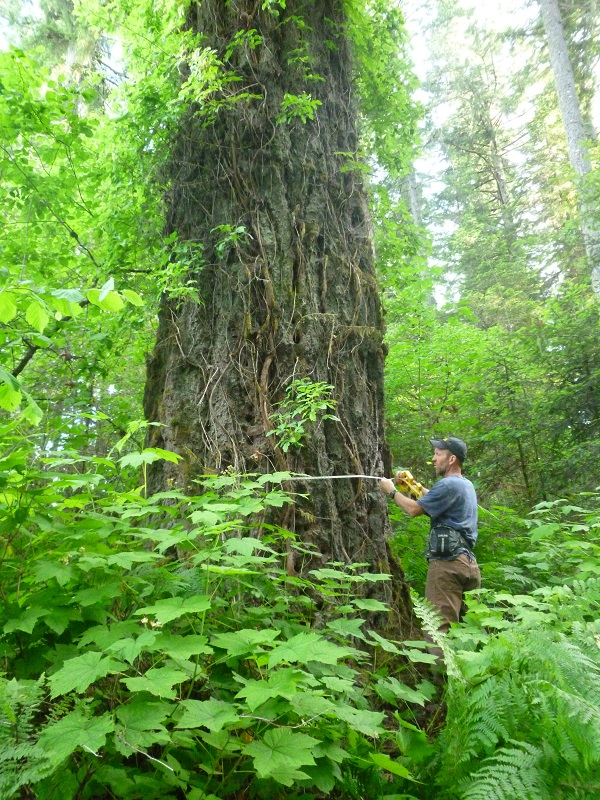 Thanks for your continued support!
Doug (& Friends of OSU Old Growth)