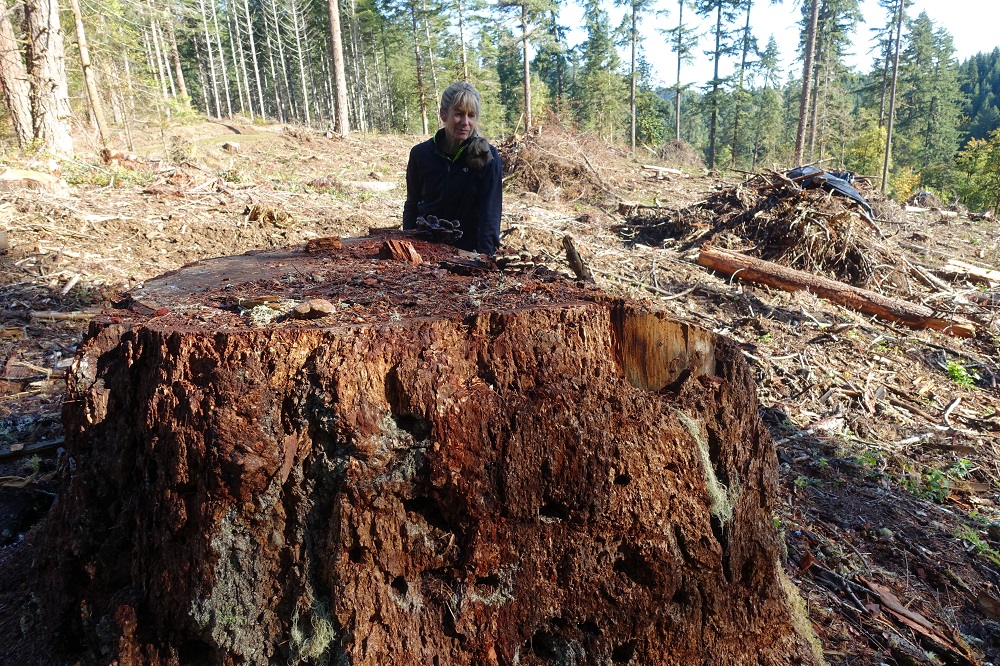 If this is your first time learning about Oregon State University's cutting of old-growth forest, you probably have a lot of questions.
Why did OSU's College of Forestry (widely regarded as our nation's leading forestry school) cut 16 acres of old-growth forest in May of 2019?
What was so special about this ancient forest?
How did they justify cutting scores of 200-400-year-old trees that generations of neighbors, recreational users, and OSU faculty and students cherished?
How much money did they make from the "harvest"?
Was it simply a "mistake", as the Interim Dean claimed, or was it a manifestation of the College's funding from the timber industry?
What changes has the College made since the old growth was cut?
What can be done to keep this from happening again and protect the remaining old-growth managed by this public institution?
For answers to these questions, read the "Background" section at the bottom of this page. For specific actions you can take, see below. We developed this site to share information about OSU's old growth and their forestry management practices that led to the cutting of this ancient forest. We see this issue and our group as a catalyst for positive change – not just within the College, but in the wider circle of Northwest forestry. The blog pieces, photos, maps, and links to news articles and key documents provide lots of information to explore. We encourage you to check out our site, visit the forest, and draw your own conclusions.
Old-growth forests play a critical role in reducing the effects of climate change by storing carbon. Logging is Oregon's largest contributor of greenhouse gas emissions, comprising ~35% of our total carbon footprint. The ecology of these rare forests is incredibly rich and remains threatened. We believe Oregonians expect much more from our nation's leading forestry school than simply following the status quo of the timber industry.
Here are some specific things you can do:
Sign our petition asking OSU leaders to protect the remaining, un-protected old growth: https://friendsofosuoldgrowth.org/save-osu-old-growth-petition/
Choose to be added to our confidential mailing list when you sign the petition (and please reply to the confirmation email)
Contact the OSU administration to advocate for change in their forestry practices (for contact info. and key points, go to our "Get Involved!" section): https://friendsofosuoldgrowth.org/get-involved/
Learn about OSU's role in the Elliott State Forest and contact the Oregon State Land Board to express your views on what will likely become the nation's largest research forest: https://friendsofosuoldgrowth.org/2019/12/13/the-osu-elliott-problem/
Send a "Letter to the Editor" to your local paper – this is a quick and easy way to spread the word to a large audience.
Share this information with friends, family, and colleagues who may be interested.
Visit the 'No Vacancy' site and adjacent old growth to learn firsthand about what happened. You can find directions and maps here: https://friendsofosuoldgrowth.org/maps/
If you have questions, please let us know using our on-line form: https://friendsofosuoldgrowth.org/contact/ or via: friendsofosuoldgrowth@gmail.com
Thanks so much for your interest and support – these forests belong to all Oregonians!
Friends of OSU Old Growth
Background: In May of 2019, Oregon State University's College of Forestry cut ~16 acres of old-growth forest containing scores of 200-400+-year-old trees. These were iconic trees with a rich history, located along a popular recreation route just minutes from a Corvallis-area trailhead. Leaders of the College knew the stand was hundreds of years old, and was home to northern spotted owls not so long ago. On this basis alone, the stand should have been protected under the College's 2005 Research Forest Plan. OSU researchers tell us old-growth forests in the mid-Willamette Valley are exceptionally rare and distinctly different from ancient forests in the Cascades or Coast Range. These stands have survived a long history of Kalapuyan burning and white settlement. Many within the College knew this history and never imagined Research Forest staff would cut these amazing trees.
The cutting of the old growth caught neighbors, recreational users, and even OSU President Ray by surprise. There was no mention of the old growth to be cut in the official notification, which came out only ~5 hours before the area was closed to the public. The College's harvest schedule provided only very general information and indicated the logging would not begin until the 3rd quarter of 2019. Many suspect the decision to log during OSU's summer recess, with little prior notice, was an intentional move to minimize public scrutiny.
After the trees were cut, we discovered a lot of disturbing information. The Forest Manager initially claimed they did not cut any old growth, then explained that he and the Research Forest Director had decided to cut the trees (2 years ago) based on "signs of mortality". Our research told a very different story. Detailed aerial photos showed largely healthy crowns, and the College's own timber cruise (survey) showed only ~4% "diseased and dying" trees – a healthier-than-normal stand! We discovered the Research Forest staff had cut an adjacent stand of old forest the year before, and were planning to cut the remaining 36 acres of old growth in the future. The original ~67 acre section of old-growth forest would be converted to a Douglas-fir plantation under the College's forest management plan.
We also discovered that the College had abandoned its own management plan for the McDonald-Dunn Research Forests a decade ago. While the Interim Dean, Anthony Davis, insisted they were still, "following the principles of the Plan", there was overwhelming evidence to the contrary. A detailed assessment by two OSU experts who helped develop the 2005 Plan documented egregious violations. Research Forest managers had cut ~166 acres of nesting/roosting/foraging (NRF) habitat for northern spotted owls that they had promised to protect. Roughly a dozen large cuts in recent years violated their (1-4 acre) harvest limit in the popular southern section of the McDonald Forest by a huge margin. Most of the cuts were 15-30 acres in size. You can read more about the violations to the 2005 Research Forest Plan and the history of mismanagement of the OSU's Research Forests here:
Follow the Money: To fully understand why OSU's Research Forest staff decided to cut the old growth, you need to look at the underlying economics. State funding for the College was reduced by the Oregon legislature back in the early 90s, forcing the Dean to turn to the research forests for revenue. The Interim Dean has said that the College generates about $1.5 million per year, roughly 5% of his overall budget, from the McDonald-Dunn Research Forests. A "Q&A" sheet prepared by OSU's Research Forest manager (in June of 2019) states that they made $460,000 from the 'No Vacancy' (old-growth) cut. The official notification for the cut lists, "Reason for Harvest: Revenue generation to support Research Forest operations and student learning in the College of Forestry". There has never been any research justification put forth by the Dean or his staff – it was all about the money. While $460,000 may not seem like much compared to the damage done to OSU's reputation, these funds are highly valued by the Dean and his staff precisely because they are unrestricted. The research forests have been likened to a giant piggy bank that the Deans have been able to use to cover their shortfalls. The Oregonian reported, for example, that $6 million in accelerated timber harvests from OSU's Blodgett Research Forest (located near Clatskanie) has been used to pay for cost overruns associated with their new forestry building.
The timber industry's funding of the College is a huge factor, as well. The Dean's salary comes from a $5 million endowment provided by the former CEO of Roseburg Forest Products. The majority of the College's 14 endowed chairs (more than any other College) comes from industry sponsors. The bulk of the College's $60+ million endowment and a reported $30-40 million of their new forestry building also came from the timber industry. In addition, the College receives roughly 1/3 of the Forest Products Harvest Tax ("timber tax") collected as part of State tax revenue. With timber industry funding permeating the College of Forestry, changing the College's forestry practices is an enormous challenge.
Signs of Positive Change: In response to public outrage and advocacy by Friends of OSU Old Growth, the Interim Dean has promised significant changes for the College of Forestry. His initial letter of July 12th, 2019, promised that all trees and stands aged 160 years and older would be protected until the next Research Forest Plan is developed – a process he expects to take at least 3 years. In a subsequent letter (dated October 21st, 2019), he announced that the status of the 36-acre old-growth stand (adjacent to the 'No Vacancy' site) would be changed to "mature forest reserve", effectively protecting it from logging. He also reinstated the 2005 Plan until the next plan is developed. Finally, he promised to develop a collaborative approach to work with various stakeholders on the new Research Forest Plan. Here's an excerpt from the Dean's second letter: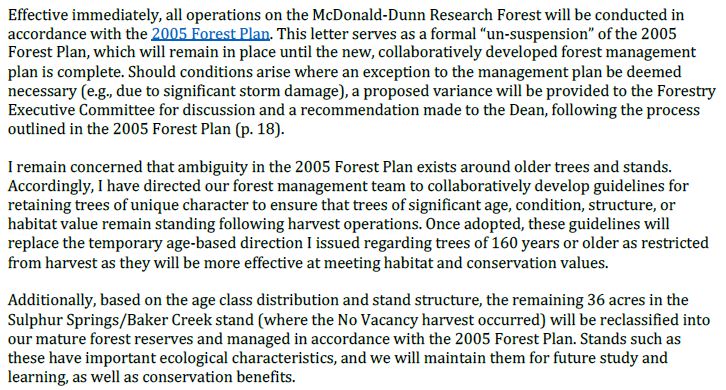 Much Work Remains: We greatly appreciate the changes that the Interim Dean has promised. His acknowledgement that "harvesting this stand did not align with the College's values" was an important first step. His subsequent promises represent the biggest shift toward conservation in the history of the research forests. However, given the long history of mismanagement and deep funding by the timber industry, it is unclear how these promises will translate into changes in the Research Forests. Promises for a collaborative approach to forest planning are encouraging. Until we have a seat at the table and our input is not only considered, but results in substantial changes in forest management, we will remain cautious and skeptical. The recent burning of slash piles at 'No Vacancy' and throughout the McDonald Research Forest, releasing hundreds of tons of carbon into the atmosphere, shows just how far the College has to go. OSU's approach to the Elliott State Forest planning process has raised a great many concerns, as well. The future of this forest, targeted to become our nation's largest research forest, will likely be heavily influenced by OSU.
Past Deans and Research Forest staff have a long history of breaking promises and ignoring public input. Getting the College of Forestry to become a true leader in forestry practices will only happen with strong advocacy from the public and groups like Friends of OSU Old Growth. As OSU Professor Emeritus Dr. K. Norman Johnson says in the video about OSU's cutting of old growth:
"It's not hard to do something that loses trust. It's a long road to earn it back."