After a 17-year lapse, OSU's College of Forestry has finally begun the long-overdue process of updating its management plan for the Research Forests. Unfortunately, the dean and his staff seem determined to repeat the mistakes of the past. They are simply not following the commitments to transparency and public collaboration that the previous dean made in the wake of the old-growth cutting controversy of 2019. To understand the details of OSU's forest planning process, read the entire blog. For those who want the bottom line, I'll start with a list of what's wrong with OSU's latest forest planning efforts – and provide email contacts so you can share your concerns with OSU leaders.
Problems with OSU's 2022 Forest Planning Process:
No transparency or public involvement in the selection process for Stakeholder Advisory Committee (SAC) – (you can find the committee rosters here).

the dean ignored my repeated requests to serve on the advisory committee (to represent Friends of OSU Old Growth – the only advocacy group focused on OSU's stewardship of these public forests)
there was no opportunity or notice to the public about how to serve on the planning committee (it was a closed process)
the dean has refused to answer basic questions about the planning process and selection of committee members

Most of the SAC members represent groups with long-standing relationships with the College of Forestry. Those will likely be highly deferential to OSU and the College's interests.
Faculty Planning Committee (FPC) meetings will be closed to the public. This deprives the public of the fundamental right to know how decisions are reached governing these public forests.
No public representation on the FPC (this is a step backward from the previous planning processes for the McDonald-Dunn AND the Elliott Forest).
OSU's senior project staff for the planning committee have a long history of pro-timber advocacy and restraint of information.

Mr. Klumpf and Director Fitzgerald were responsible for the decision to cut the old growth in 2019.
The director actively worked to restrain information during OSU's previous planning process, in violation of OSU's core principles.
Both men have a strong financial conflict of interest (as their salaries come from logging revenue).
Both men have a long history of making misleading and factually-incorrect statements about OSU's forest management. Their involvement will unquestionably bias the planning process.

A traditional timber company, Starker Forests (one of the College's largest donors), is the only timber company represented on the SAC. The dean should have broken with the past and chosen someone representing ecological forestry practices. We can expect the Starker rep. to push for more active management (logging) of the Research Forests.
Both committees lack experts in forest carbon, ecological forestry, and climate change. The dean could have chosen any number of faculty who are world-renowned experts in these fields. These are glaring omissions, as the public clearly prioritizes non-monetary values of the forest over revenue generation.
Planning goals once again include a mandate of revenue generation (i.e. logging) as a primary objective. This creates conflicts of interest at several levels (the folks managing the forest have a built-in incentive to plan more logging, and the dean benefits from the un-allocated revenue). These conflicts of interest have led to substantial mismanagement of the forests in the past. Revenue may be an outcome of the management plan, but it should not drive it!
OSU is failing to meet the previous dean's commitment to having a transparent and collaborative planning process. Collaboration involves much more than a hand-picked advisory committee and holding "listening sessions". The public must be treated as an equal partner.
The dean and his staff are intent on controlling the structure and dialogue surrounding forest planning. They are not planning to provide a public comment period during the upcoming "listening session". This violates principles governing public bodies and deprives people of their right to express concerns in a public forum.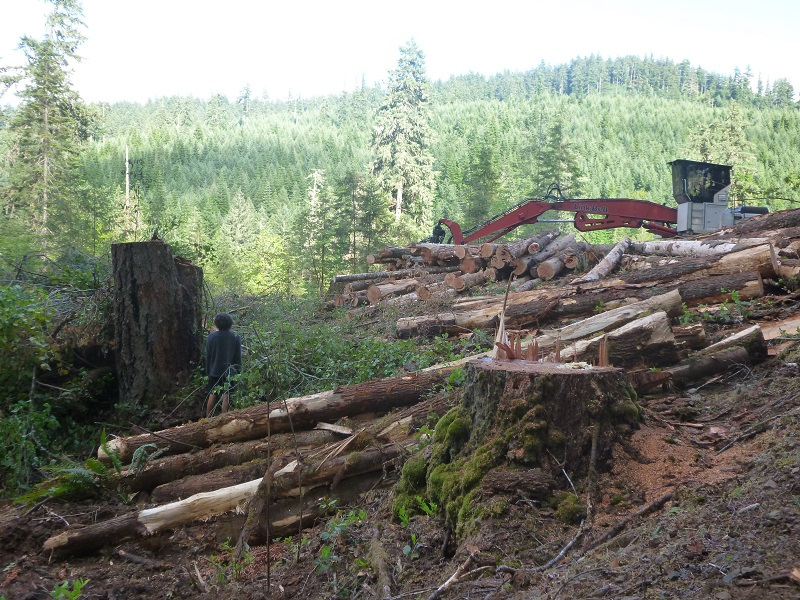 A Call for Change:  If you care about OSU's Research Forests as a neighbor, recreational user, or just someone who recognizes the pivotal role that forestry practices play in climate change, please take a moment to share your concerns with OSU leaders.  The dean is clearly digging in his heels and refusing to honor the College's prior commitments to a transparent and collaborative process – so make sure to send your message to the OSU president and board of trustees, as well.  The outcome of this planning process will determine the fate of these forests for many years to come.  It will also determine whether OSU leads or lags in forestry education.
Here are the email contacts for the OSU leaders:
Dean of the College of Forestry:  Thomas DeLuca  tom.deluca@oregonstate.edu
Associate Dean of the CoF:  Holly Ober  holly.ober@oregonstate.edu
OSU's Interim President:  Rebecca Johnson:  pres.office@oregonstate.edu
[Note:  the interim president has subsequently retired.  OSU's new president is Jayathi Murthy.]
OSU's Board of Trustees:  trustees@oregonstate.edu
*****************************************************************************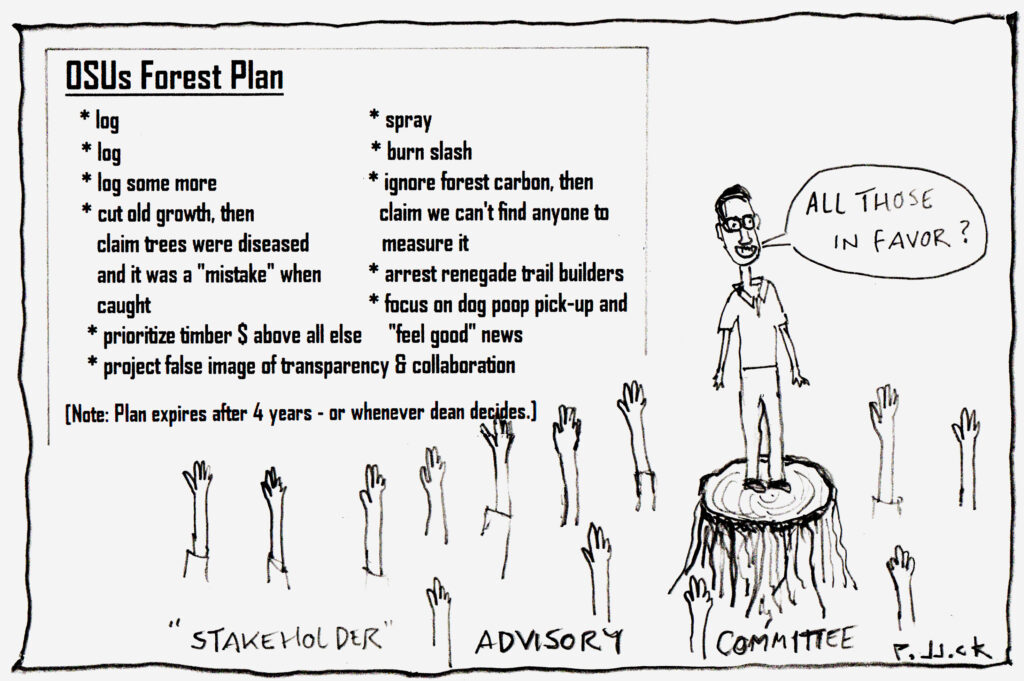 Most Corvallis citizens are familiar with OSU's McDonald and Dunn Research Forests (which consist of approx. 11,250 acres of mostly-forested land north and west of town). The "Mac-Dunn" has some of the best recreational trails in the state and receives well over 100,000 visitors each year. It's also home to hundreds of acres of amazing old-growth forest and a diverse spectrum of ecosystems. What you may not know is that the College stewards 10 separate tracts of forest land around the state. Since OSU (and the College of Forestry) are public institutions, these forests belong to all Oregonians.
To understand what's wrong with OSU's current forest planning efforts, one first needs some context. For an in-depth account of the College's autocratic approach to forest management, refer to my blog piece "Seeds of Change in the College of Forestry". You may be surprised to learn how a former research forest director (with support of his dean) covered up the theft of ~$700,000 of timber, how large swaths of the Blodgett forest were liquidated a few years ago to pay for $6M of cost overruns on OSU's new forestry buildings, and how OSU professors helped Dow Chemical circumvent the EPA's efforts to ban a dangerous pesticide (2,4-D). While some of these misdeeds happened decades ago, many others (like the cutting of old growth and the destruction of the Blodgett) happened in the past few years. Unless we understand the College's dark history, we are doomed to repeat it.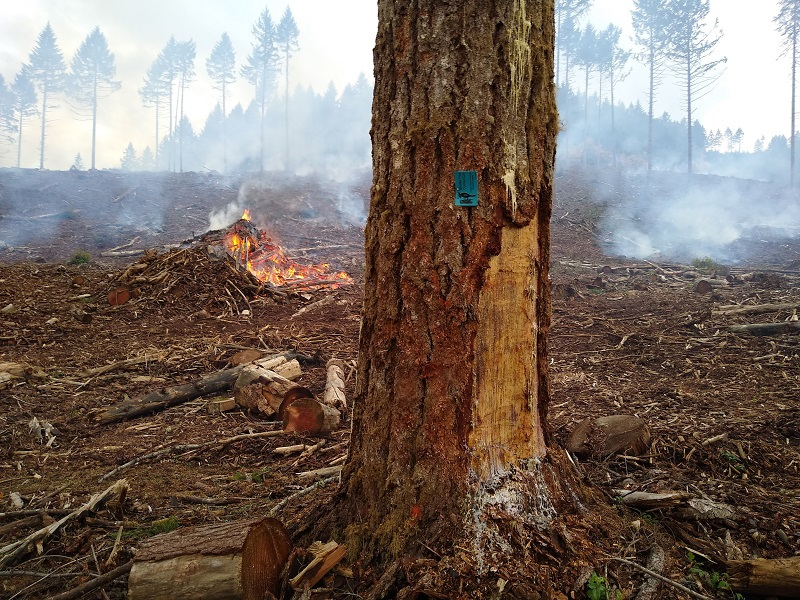 Generations of college leaders have had a hard time meeting their public commitments. Their 2005 Research Forest Plan for the McDonald-Dunn was unofficially abandoned in 2009 (resulting in egregious violations and, ultimately, the cutting of the old growth a decade later). The College's highly-acclaimed 1997 research plan for the Blodgett Forest was similarly abandoned by a previous dean. Eliminating the plans for these "Research Forests" allowed wholesale logging without public oversight. Given this problematic history, the public is understandably highly skeptical when it comes to OSU's forest planning. It is easy to squander public trust, but extraordinarily difficult to earn it back.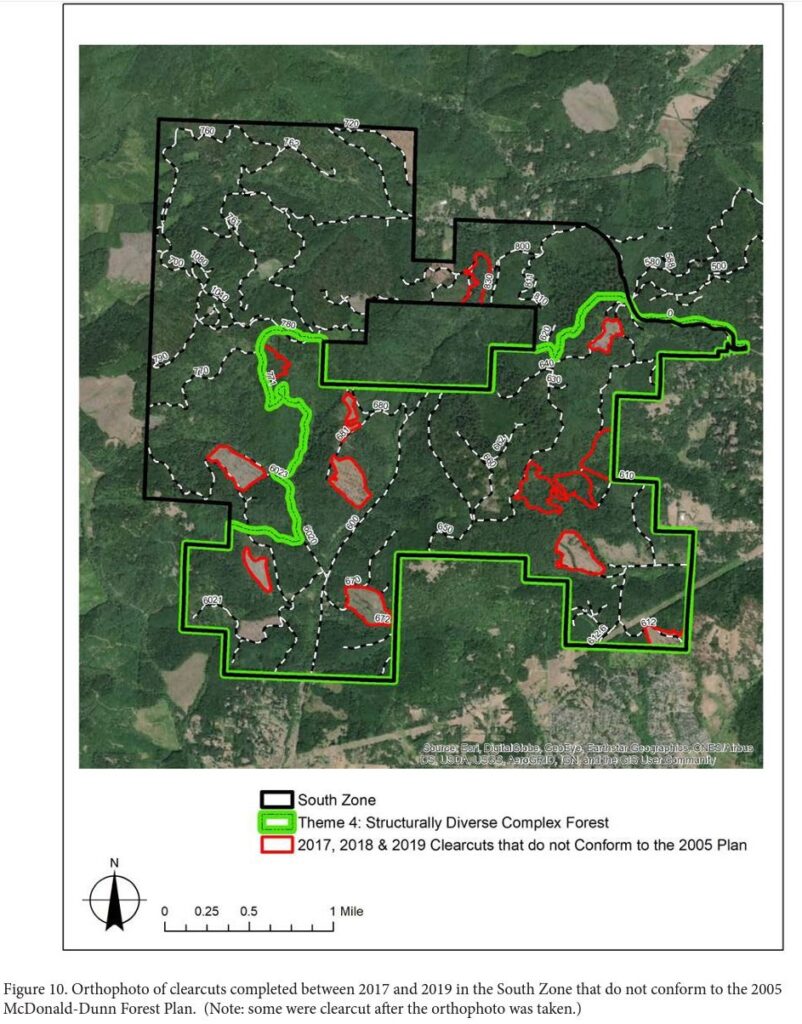 I first talked to Dean DeLuca about the College's troubled history of forest planning soon after he was hired (in the summer of 2020) on a hike to the old-growth clearcut. I expressed my interest in serving on his planning committee. When he labeled me a "lightning rod", I pushed back, pointing to all of the "hardliners" who had served on OSU's previous planning committees. Some of these guys were real bullies, openly intimidating other members of the planning committees. I reiterated my interest in serving on the dean's planning committee in an email I sent him on March 1st, 2022. Here are some excerpts of my email:
"...I'd like to take this opportunity to reiterate my interest in serving on OSU's forest planning committee for the McDonald-Dunn Forests.  When I mentioned this at the end of our hike back in 2020, you said I'm perceived as a "lightning rod".  I replied that those who characterize me in that way (the hardliners) are the real problem.  The College still has plenty of these guys who have a disproportionate, negative influence.  OSU's previous forest planning teams have included a number of these highly-controversial and divisive figures - guys ... who threatened and intimidated other planning team members.  OSU's previous forest planning committees have also included representatives of a traditional timber company (e.g. Starker Forests) - which follows industrial forestry practices that most Oregonians reject.  If you're going to exclude me because I ruffle the hardliners' feathers, then you're also embracing these guys and their regressive influence.  
As the founder of the only citizens' advocacy group focused on OSU's forest management, I can tell you there is no one more qualified to represent the community's concerns when it comes to the OSU research forests.  My ~1000 supporters (many in the CoF) will consider your choice of committee members to be a litmus test.  Will you succumb to the pressure of the hardliners - or abide by the interim dean's promise to have a truly collaborative public process?  Collaboration means far more than holding "listening sessions" while proceeding with the same insular planning approach used in the past.  If you exclude me, the answer will be evident for all to see, just like a litmus test.  I should add that I've also been an avid recreational user (hiker, runner and mountain biker) of the forests for more than 35 years.  There are few people outside OSU who have such extensive knowledge of the forests and OSU's planning and forest management history.  I believe I am uniquely qualified to serve on the forest planning committee.  The question is whether or not you're truly dedicated to creating positive change in the management of the research forests."
The dean sent me a short email a couple of days later, stating,
"…Forest management planning and stakeholder committees related to planning efforts have yet to be formed…Thanks for your interest in serving on a committee, and I encourage you to share your interest with Oregon Consensus if you have not done so already." [emphasis added]
The dean's response is important in several regards. First, he made it clear the planning committees had yet to be formed (so my request to serve was timely). Second, the dean acknowledged my role (representing a larger group), but did not provide any info. about how I might apply (other than to share my interest with Oregon Consensus). Third, he did not respond to the extensive list of concerns I had expressed about the upcoming planning process. The dean and his staff have increasingly followed this pattern of avoiding issues and not answering specific questions.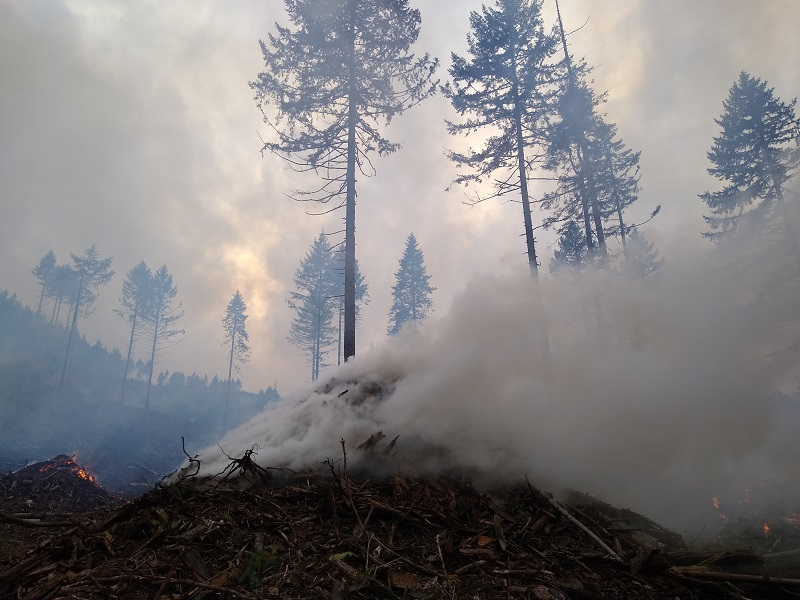 I had two lengthy phone interviews with the senior project manager and associate working for Oregon Consensus (OC). In these interviews, I clearly expressed my interest in serving on the dean's planning committee. The OC folks followed up weeks later by sending me a copy of the report they wrote for the dean and his staff. Their 2-page list of concerns fails to even mention the prior dean's commitment to a transparent and collaborative forest planning process. I later learned that the OC project associate used to work for the College of Forestry. It is hard to imagine her being an objective facilitator with her connections to the College. Despite my efforts with the dean and Oregon Consensus, I was provided no information about an interview or selection process. I only learned I was to be excluded from the committee when OSU sent out a "Forest Update" announcing the committees had already been chosen! Given my pivotal role as a critic of the College and my repeated requests to serve, I can only assume my exclusion was a deliberate move on the part of the dean. The dean's failure to even acknowledge my request to serve on the committee showed a glaring lack of integrity that violated a key OSU principle: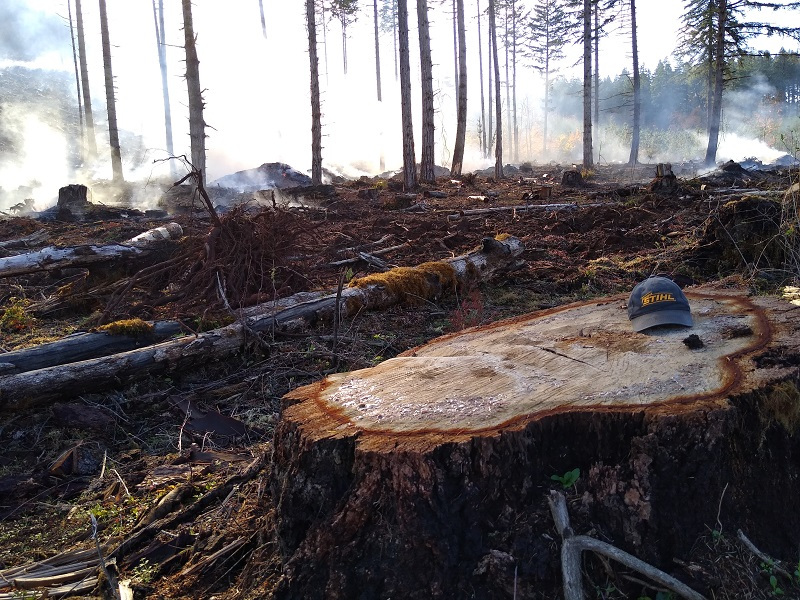 In a follow-up message to the dean, I asked seven specific questions about the planning process: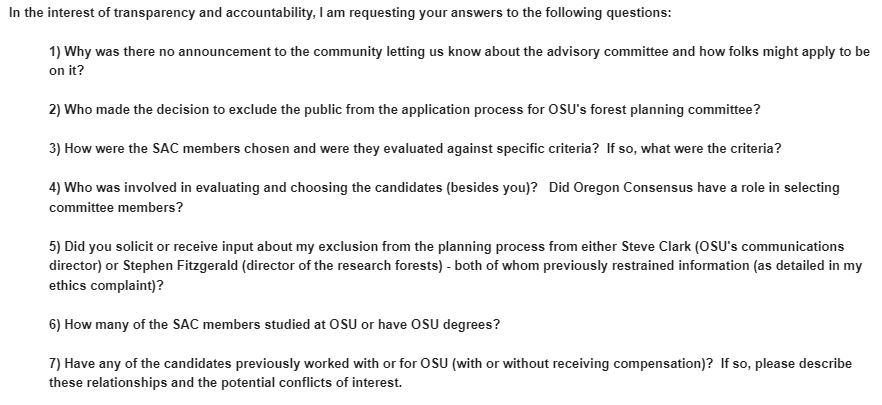 The dean responded to my latest email with a testy response:
"…you are mistaken. You are not being excluded from the research forest planning process as you state in your email. This planning process has been transparent and well promoted from its beginning. As a community member you are welcome to attend and participate in the community listening sessions scheduled over the next three months during which community input will be welcomed.
Members of the Stakeholder Advisory Committee represent a diversity of professional and personal expertise and experience. As well, the committee's membership represents neighbors of the forests, recreational and environmental interests, Tribal nations, and not-for-profit, county and state agencies. It is an excellent advisory committee and its members do not merit your implied castigations of conflicts of interest."
In his response, the dean refused to even acknowledge the specific questions I'd asked concerning the lack of public notice and transparency with his planning process. The implicit message is: "I don't have to answer your questions, and I won't even acknowledge them!". The dean is failing to understand that as the leader of a public institution (OSU's College of Forestry), he cannot simply choose to ignore questions – especially when they concern public transparency and accountability! The dean also mistakenly equates the opportunity to participate in their so-called "listening sessions" as somehow being equivalent to serving on their advisory committee. Finally, he fails to acknowledge the enormous bias of him and his staff getting to decide who represents the public. The simple fact that the so-called Stakeholder Advisory Committee is mostly composed of people representing organizations that have existing relationships with the College – undermines the integrity of the process.
Critiquing the Process vs. OSU's Forest Management: It's vitally important we let OSU leaders know their current forest planning process is violating the previous commitments to transparency and a collaborative public process. The dean's approach is littered with serious flaws and violations of public trust. True collaboration entails College leaders relinquishing a substantial degree of control over the planning process. OSU cannot continue to control the process, narrative, and opportunities for public input. The dean and his staff cannot simply make key decisions behind closed doors or behind a facade of legitimacy provided by Oregon Consensus. Without transparency, there can be no trust! Remember, the university is a public body whose primary purpose is to serve the citizens of Oregon. The Research Forests should be managed to meet the expectations and values of Oregonians, not College insiders, affiliated organizations, and industry benefactors.
As the planning process unfolds, it's also vitally important that citizens voice their concerns and priorities for OSU's forest management. You can find more info. about OSU's August 31st listening session here.
You can also email your concerns directly to the dean, OSU president, and board of trustees. Be sure to request that your input be shared with the forest planning committees.
If you're willing to BCC Friends of OSU Old Growth, it will help me keep track of concerns about OSU's forest management.
Thanks for your continued support!
Doug (& Friends of OSU Old Growth)